NEWS DETAIL
| | |
| --- | --- |
| Taking A Look At "Fat Bikes" | 13-May-2014 |
It is winter in the Northern Hemisphere and snow blankets a lot of our normal riding haunts. But this doesn't mean you have to stop riding. In this post, I will take a quick look at some "fat bikes" and how these rigs "measure up" to the idea of big wheeled mountain biking.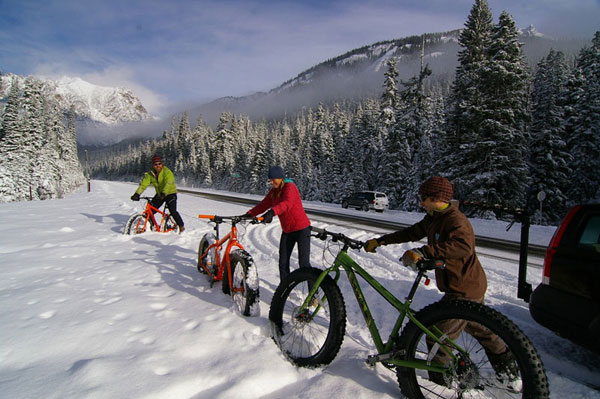 So, Just What Is A "Fat Bike"
Essentially what we have here is a mountain bike based around some enormous, "fat" tires, thus the moniker "fat bike". The whole point of these bikes is about flotation and traction on surfaces otherwise unrideable by ordinary 26″ or 29″ wheeled bikes. Are they "big wheeled" mountain bikes? Aren't these just glorified 26″ers? Well, not really. Here is why they matter to folks into 29″ers.
First, it is important to keep in mind that the 29″er got its name in the first place because of its overall outer diameter measurement, not from the 700c based rim size. The reasons for this go waaaay back, but for our purposes here, let's just focus on outer diameter. Any rim combination/diameter paired with the right sized tire can reach a certain measurement. So, in the case of a fat bike, the combination of the rim diameter and fat tire reaches 29 inches in diameter.
Some folks would argue that due to the ISO bead diameter of the fat bike's tires being the same as 26″ mountain bikes, the fat bikes are not 29″ers, but using that logic, road racing bikes would then be 29″ers too. So, as you can see, a fat bike has a good reason to be thought of as a 29″er in reality.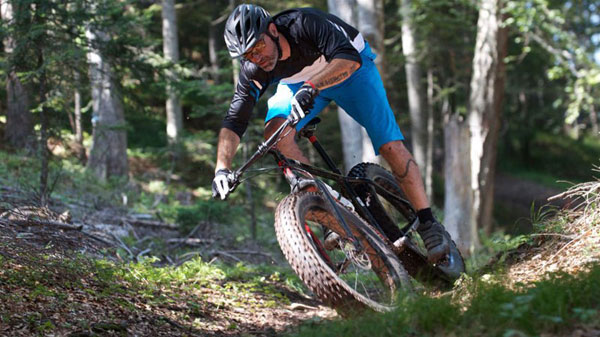 Another way fat bikes are like 29″ers is that they have evolved to needing proprietary frames and forks, much like 29″ers. While some 26 inch bikes can be shoehorned with big, 3″ wide rubber, those same bikes can not handle today's nearly 4″ wide tires on 100mm wide rims! Nope, only the proper frame and fork will do now. One final thing that bonds fat bikes to 29″ers is that "normal" 29″er wheels and tires can be swapped into a fat bike frame for summertime riding, if you want to. Many fat bike riders just ride their enormous tires all year long though.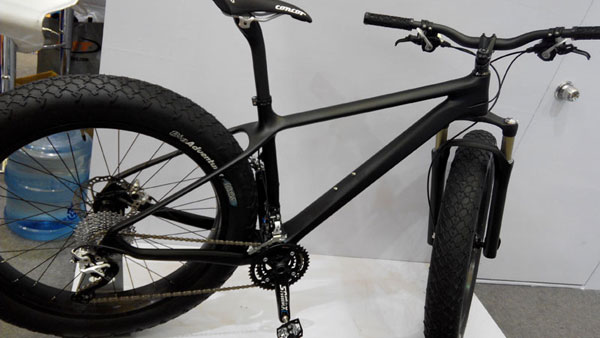 The King Of All Terrain Bikes?
Back in the early days of modern mountain biking, the term "mountain bike" was actually a company name. Many early fat tired bikes were called "all terrain bikes", or "ATB" bikes. (In fact, since most off road bikes are not actually ridden on mountains, "all terrain bikes" makes more sense, but…) If any bike can lay claim to being "all terrain", the fat bike is that animal. These bikes, designed originally for tackling the Alaskan ultra-endurance races on snow, were found to excel on all sorts of terrain, and many places a regular mountain bike can not be ridden easily, a fat bike can ride comfortably through. All terrain indeed!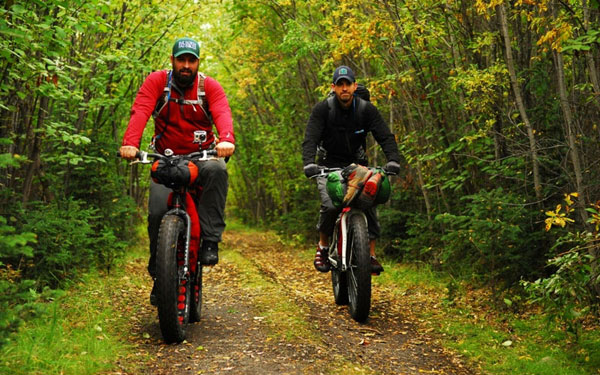 Personally, a fat bike has always had an attraction for me. I knew that at some point I would get one, and I finally purchased my fat bike recently, just to satisfy my curiosity about the genre. I'll be giving it a go here in all sorts of riding situations- not just snow and sand- to see if this is truly the "King Of All Terrain Bikes".